When we talk about our Off Shoulder Top it's a little hard to limit the ideas for how it will fit into your current closet. You can see casual looks. You can add a simple change for a workplace outfit.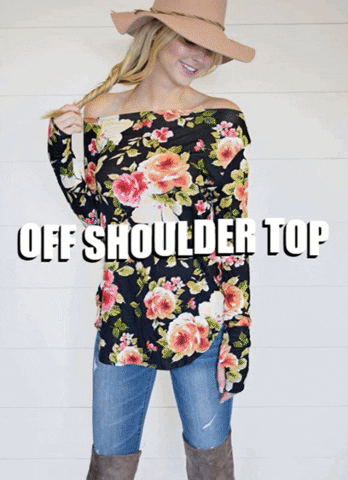 First & Importantly, I want to assure you that this fabric is soft and comfortable! Lounge wear or pajamas will be what you are feeling BUT the LOOK is ready to be out and about. Ava Grace Fashions is famous for finding these styles that feel like pjs but don't look at all like it. LOVE THAT.
We talk about 1-2-3 style here at Ava Grace Fashions:
1. Closet Basic or Neutral

2. Fashion Piece or Trendy Item

3. Add the Details

~Ava Grace 1-2-3 style
For a great Work Style:
1. Closet Basic- wear your BLACK SNAP CARDIGAN and BLACK COLORED SKINNIES.
2. Fashion Piece- bring in the fun floral of the OFF SHOULDER TOP.
3. Add the Details- complete your look with a sparkly GLASS BEAD NECKLACE.
And remember when you leave work, you can lose the cardigan and head to dinner with your hubby and that shoulder will peak out for a sexy and pretty look while you enjoy a quiet time with him after a long week.
If you are in Ellicottville can I suggest the Date Night Menu at The Silver Fox Restaurant~it's a really fun experience.
Keep an eye out for the next post with a casual, easy 1-2-3 style look>>>